Design Your Beach House by AI
Are you dreaming of the perfect coastal retreat? A beach house interior is your canvas to craft a serene oasis that captures the essence of sun, sand, and sea. From sun-kissed havens to nautical marvels and tropical paradises, here's a list of captivating beach house interior design ideas that will ignite your creativity and transport you to the shores of relaxation.
Elegant Beachfront Luxury: Refined Coastal Retreat
Elevate your beach house interior with a touch of luxury and sophistication. Plush upholstered furniture, marble accents, and crystal chandeliers create an elegant ambiance that's perfect for beachfront living. Mother-of-pearl details and elegant seashell displays add a refined coastal touch, reminding you of the treasures the sea holds.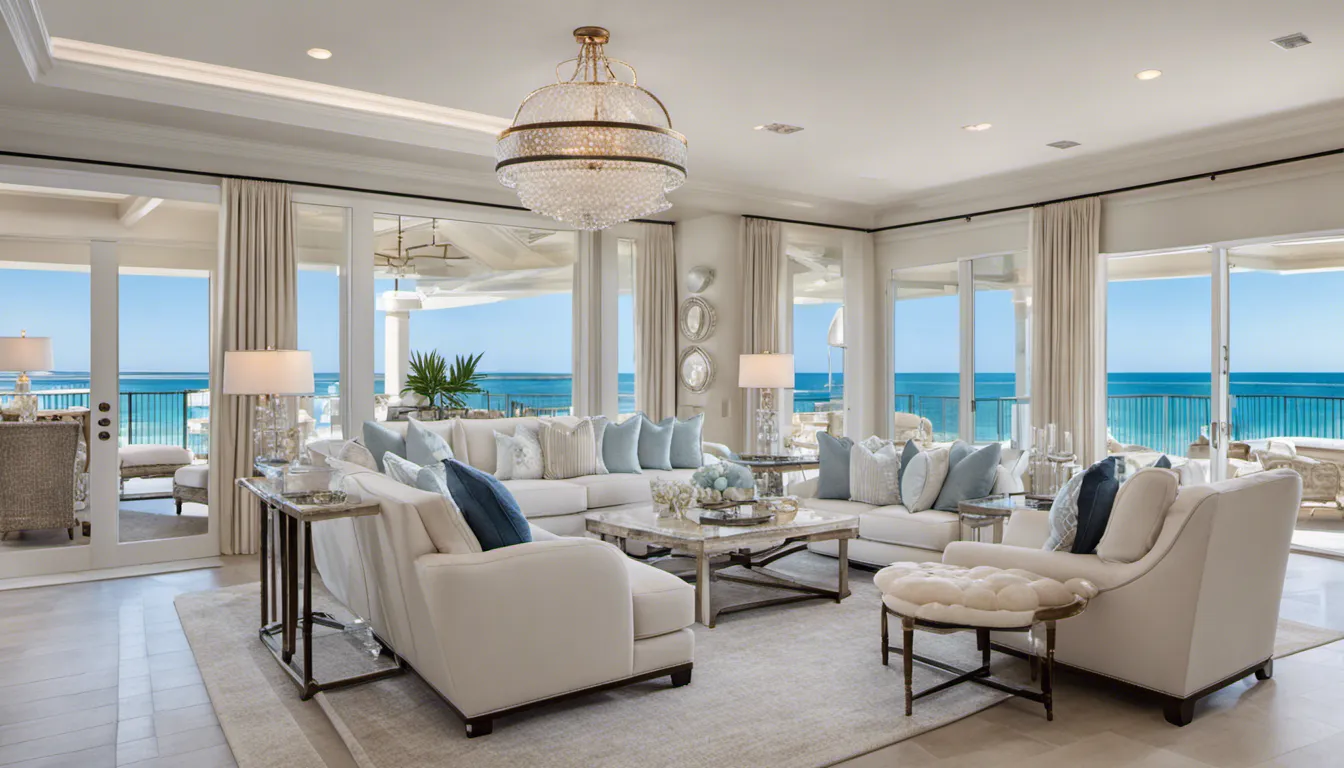 Sun-Kissed Elegance: Embrace Nature's Beauty
Step into a sun-kissed paradise where the ocean breeze meets sophisticated design. Floor-to-ceiling windows invite the coastline inside, while driftwood accents and sandy hues infuse the space with a natural touch. An open-concept living area seamlessly blends indoor and outdoor spaces, creating an inviting ambiance. Think coastal-inspired furniture, light linen curtains, and an atmosphere that radiates relaxation.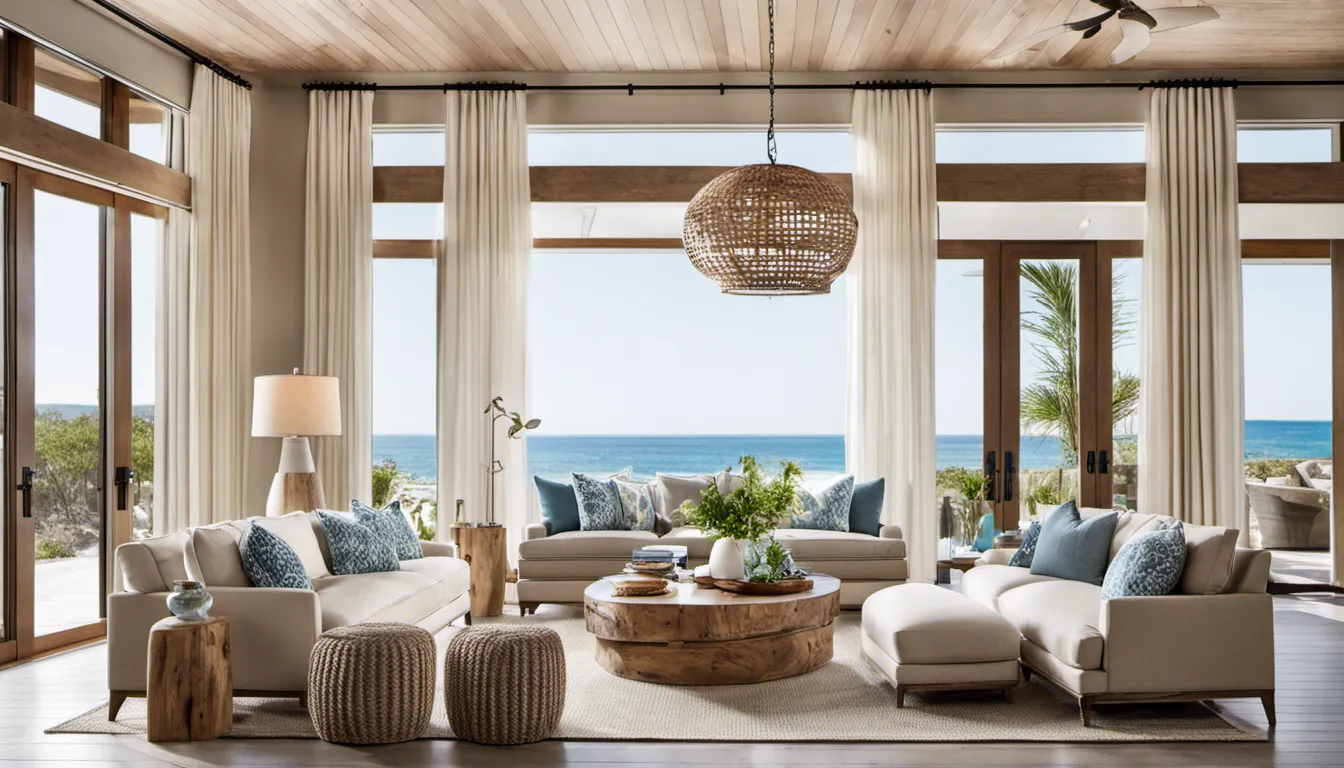 Nautical Charm: Sailing Into Style
Set sail with a nautical-themed beach house interior that channels the timeless allure of the sea. Overlooking the water, a navy blue and white color scheme creates a classic maritime atmosphere. Vintage wood furniture and ocean-inspired accents complete the look, inviting you to embark on a journey of elegance and maritime charm.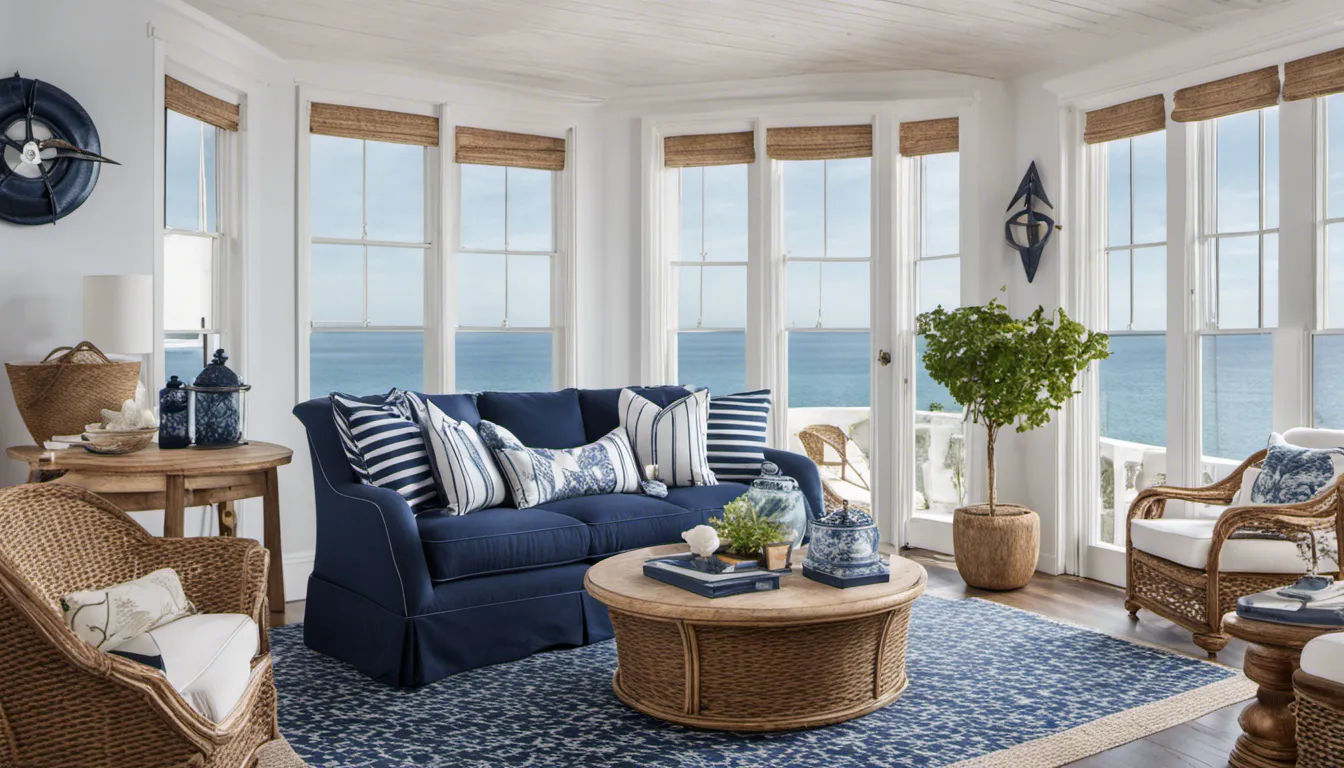 Artistry of the Sea: Abstract Ocean-Inspired Masterpieces
Adorn your walls with abstract ocean-inspired artwork that transcends mere decoration. These masterpieces capture the essence of the sea—the ebb and flow, the depth and mystery—in strokes of color and form. Each piece whispers tales of the ocean's majesty, inviting you to lose yourself in their intricate narratives.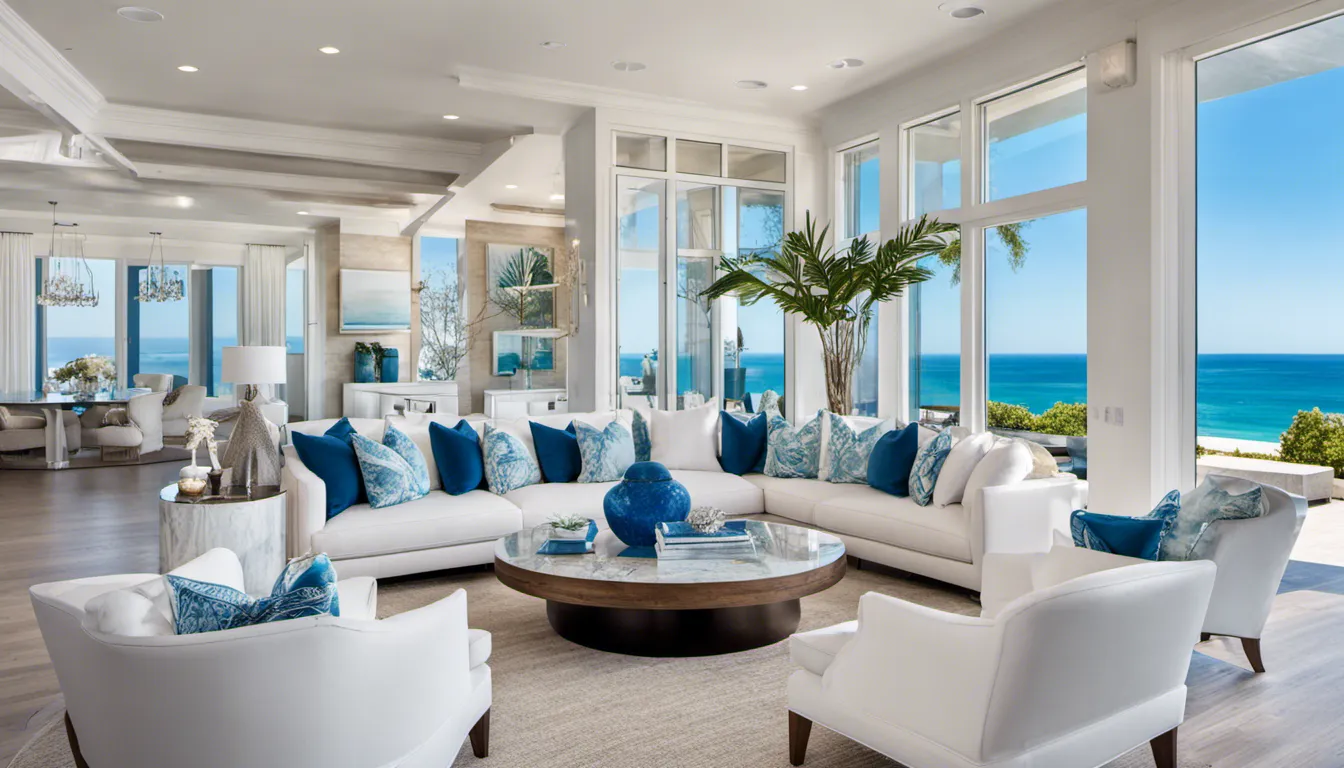 Minimalistic Tranquility: Embrace the Simplicity
Find peace in minimalistic beach house interior design, where clean lines and open spaces invite serenity. White walls and light wood floors create a canvas for sleek modern furniture in ocean-inspired hues. Keep the decor minimalistic with uncluttered surfaces and glass accents that amplify the sense of tranquility.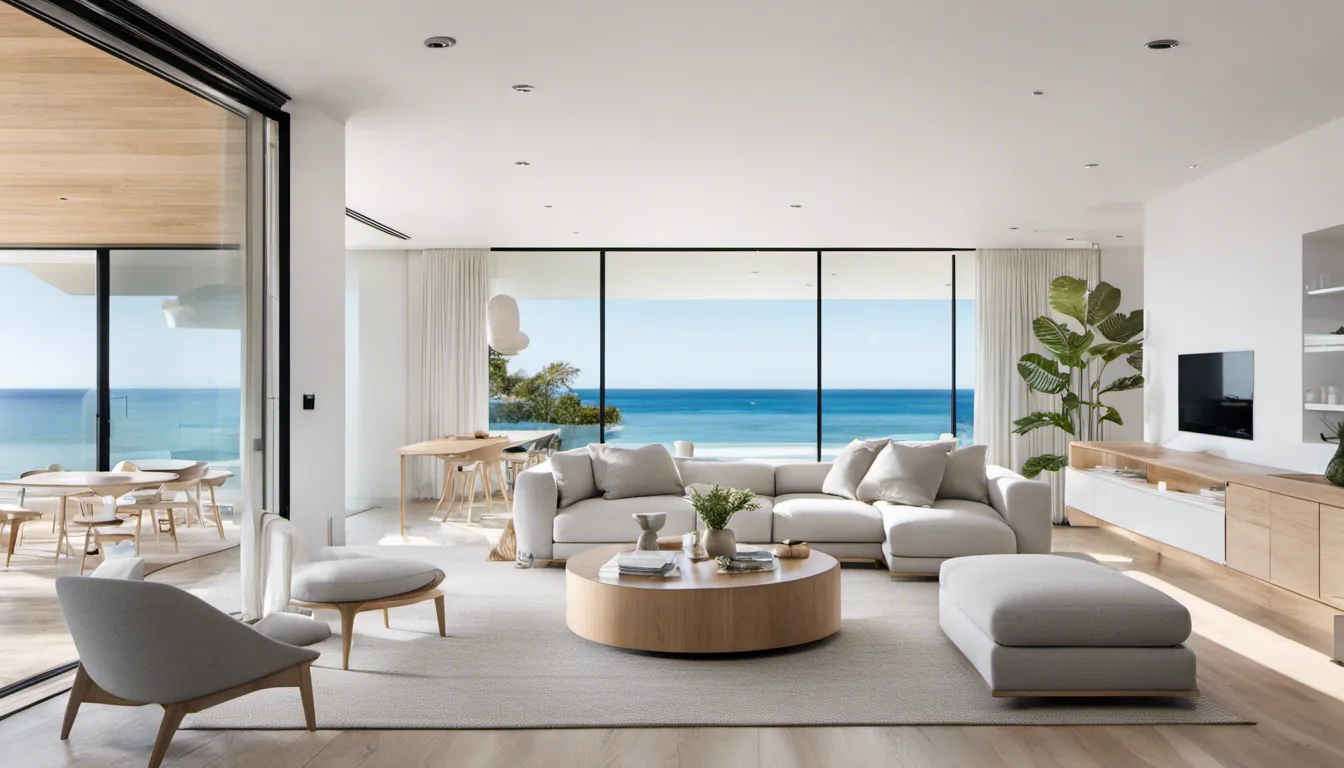 Bohemian Beach Vibes: Laid-Back Eclectic Charm
Indulge in the carefree spirit of the beach with a bohemian-inspired interior that marries patterns, textures, and creativity. Macramé wall hangings, colorful rugs, and low wooden tables create an atmosphere of relaxation and freedom. It's a space where you can unwind and embrace the eclectic beauty of the shore.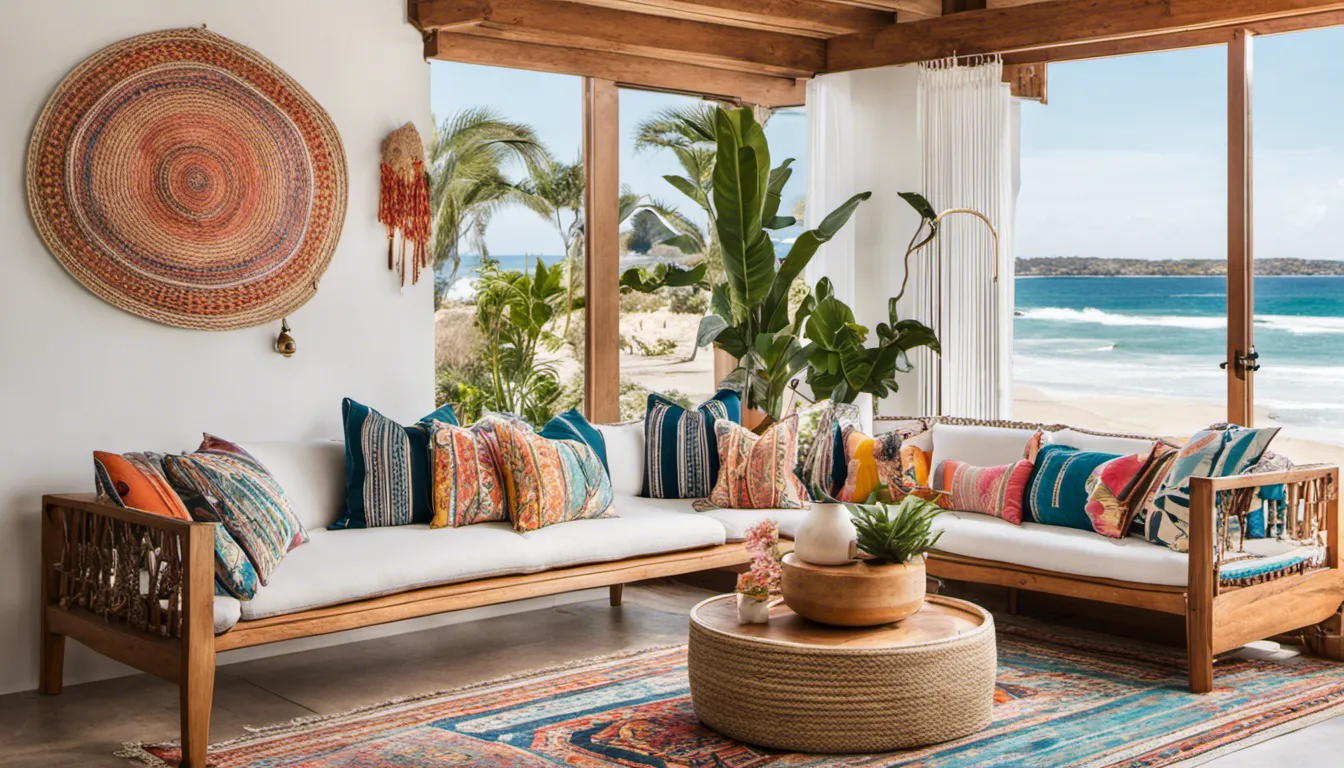 Transitional Coastal Elegance: Harmony of Classic and Modern
Strike a balance between classic charm and modern flair with transitional beachfront elegance. A neutral palette with seafoam and coral accents sets the stage for custom-built cabinetry and panoramic windows that frame ocean views. Enhance the design with coastal landscape oil paintings, ceramic coral sculptures, and tailored upholstered furniture.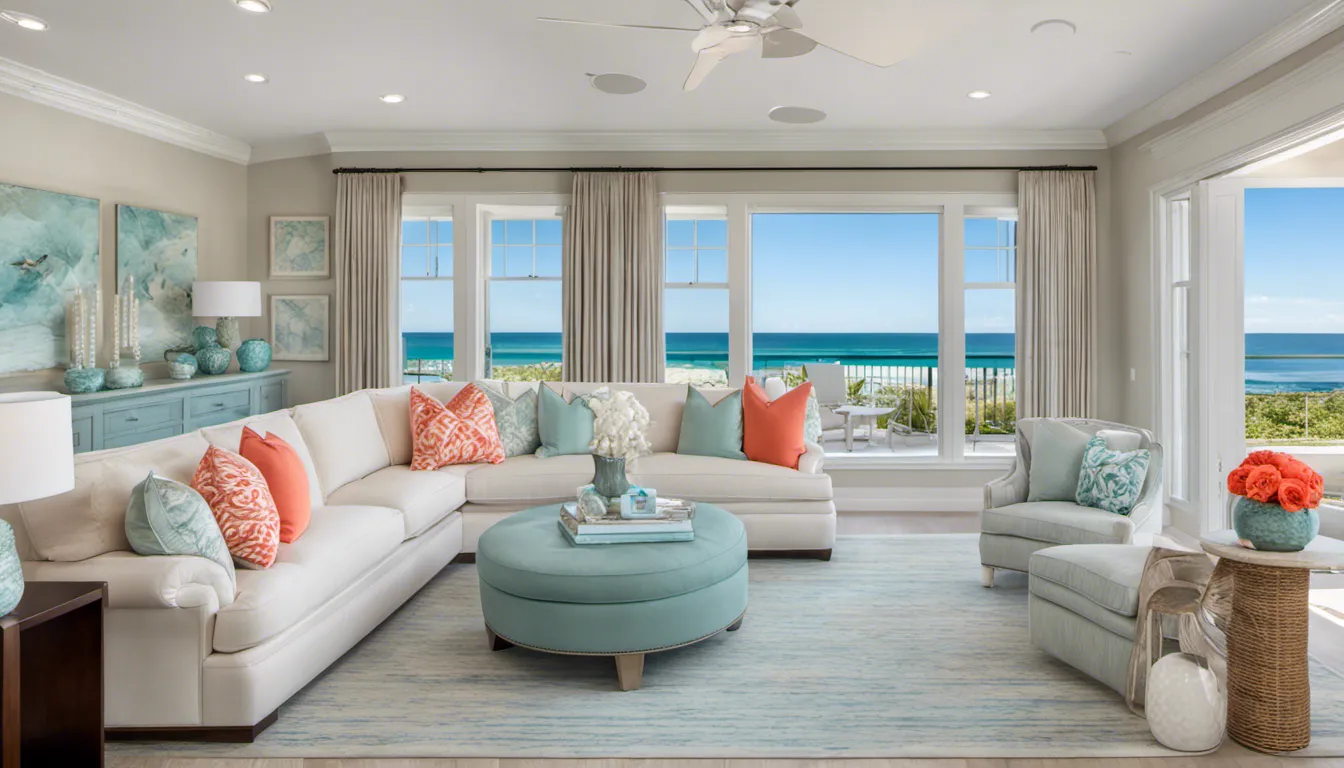 Zen-Inspired Serenity: Minimalism Meets Luxury
Transform your beach house into a Zen-inspired sanctuary where natural materials and tranquility take center stage. Floor-to-ceiling windows provide uninterrupted ocean vistas, while teak furnishings evoke a sense of calm luxury. The minimalist interiors allow you to connect deeply with the beauty of the surroundings.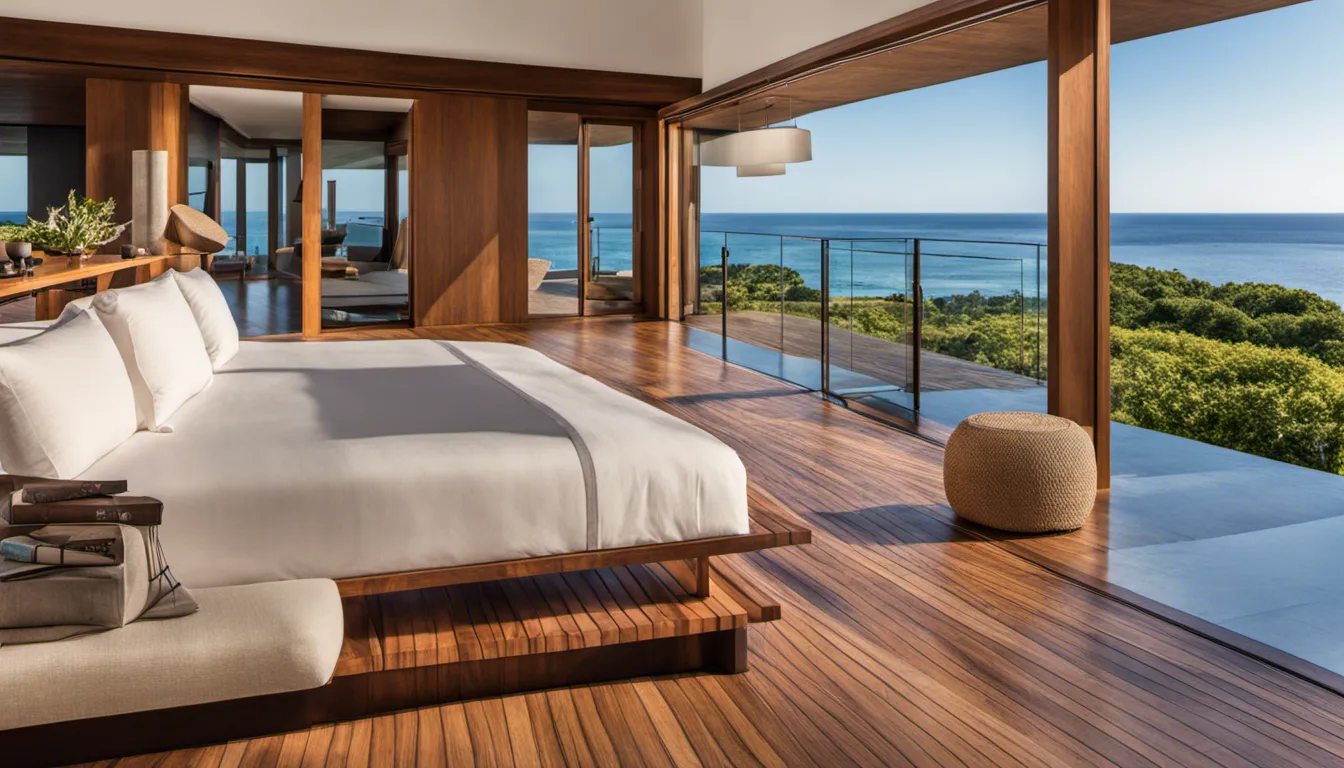 In Conclusion: Crafting Your Beachside Haven
Whether you're drawn to the allure of sun-soaked elegance, nautical nostalgia, tropical paradise, or minimalistic Zen, these beach house interior design ideas offer a diverse range of inspirations to bring your coastal haven to life. Let your imagination run wild as you curate a space that reflects your personal style and embraces the essence of seaside living. With these ideas as your guide, your beach house will become a sanctuary of relaxation, beauty, and endless inspiration.